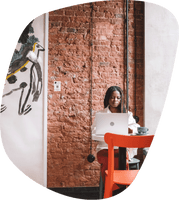 Show and sell your art locally
We match you with the right space in your community and feature your work in our online gallery.
Our tools make it easier for buyers to purchase your art. All it takes is a simple scan of a QR code.
Simple steps to get started
③
Exhibit in LoCA
art spaces
④
Sell your work, locally and globally
Easy and No Upfront Fees
It's free to create an account
Artists receive 70% of every original artwork sold through LoCA
Secure online payments
Non-exclusive policy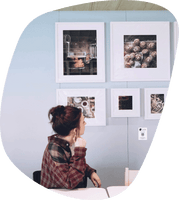 Our Exhibition Spaces
Our shows take place in inviting, informal spaces that serve as cultural hubs in your community, like coffee shops, salons and hotels.
Artists oversee installation and shipping.
LoCA handles all payments and processing.
Our Print Program
We can create exceptional fine-art prints from originals (including photography) and ship on demand to buyers globally.
Our specialists make it easy, advising on images, file resolution and pricing.
Promotion of Your Work
Your art will be included in our online gallery and on your unique Artist Page where buyers can learn more about you and browse your collection.
We feature select artists on our homepage, in our regular newsletters and e-mails, and through our social media.
You can also point interested buyers to your LoCA page to facilitate online sales and use your QR codes to sell your art for any upcoming exhibitions.
Common Questions
Our curation team will identify spaces that best showcase your work. Once we've secured the right match, we'll put you in contact with the space directly to confirm the details.
LoCA welcomes all artists across a variety of mediums, including: painting, photography, mixed media and sculpture. How much of your collection and which pieces to show is all up to you. We operate on a non-exclusive basis.
Once we've secured a show for you, we will connect you with your lead contact at the space. You confirm details (show dates, art placement, number of pieces to show) with the space directly and handle installation. You can download the QR code enabled labels from our site to print at home. When the show ends, you will take down all art and ship any sold pieces to the respective buyer. If you sell prints through us, we will handle printing and shipping as soon as an order is placed.
The buyer pays for shipping when they purchase. If your piece is bought through our online gallery, we will notify you so you can immediately ship to the buyer. If your work is currently in a show, you will ship after the show ends. We recommend you purchase insurance through the shipping agent. If you sell prints through us, we will handle printing and shipping as soon as an order is placed.
When your first show is confirmed, we'll verify your account details, including your desired payment platform. LoCA will then issue a direct payment to you upon confirmation that the piece has been shipped to the buyer.
Artists receive 70% commissions on all original artwork and limited edition prints sold through LoCA, compared to 50% for most commercial galleries. Artists receive 65% of the profit from the sales of open edition prints. The profit is calculated by subtracting the cost of printing and shipping of the prints from the sale price.
Our goal is to support local artists by improving discovery of their work. We also believe that art is best appreciated when it's seen in-person, which is why we focus on making it easier for artists to find spaces in their community to show and sell their work.